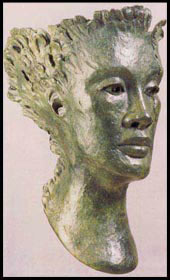 Background The group was formed in 1998 in memory of George Muller who founded a studio at his home in Bicester, Oxfordshire. It was set up to allow artists and students to experience a broad range of techniques and to provide an opportunity for individuals to expand their interests and ideas relating to sculpture. It is thanks to Joyce Playle that the group has continued to grow and develop.

The studio Offers the opportunity for established artists and students to expand their knowledge of mould making, the process of making cold cast bronze resin sculpture and their patination. The studio also provides the opportunity for members to work on a large scale. Armature construction and the use of a mig welder are also available. Direct modelling techniques in clay, plaster, and fibrocem are just some of the materials and methods available to members. Members meet for a tutored day on a Tuesday and a non-tutored day on a Thursday. There are three 12 week terms.

Activities As an art group we provide tuition, encouragement and support within a creative and friendly atmosphere. Within this working environment there is an interchange of ideas, stimulating discussion and a sharing of information on current sculptural work and exhibitions. Workshops are arranged with specialist subject speakers, visits to places of interest relating to sculpture, and life- sculpture workshops are also organized. Members also display their work at the studio and its garden during Oxford Artweeks.